Let us help you plan :
I want to

MONDIAL MMX › For Corporates
For Corporates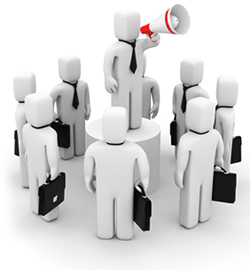 Top Management
The Top management of the corporate is responsible for running of the company. Due to heavy responsibility & stress-full task, they are not able to take care of their finances in best possible manner. If they start spending good time in managing their personal finances, it might result in inadequate time for managing corporate activity.

To take care of the situation, we offer our Financial Planning Process for the top management to the Corporate. The aim is to create a Win-Win situation for both Corporate & its Top Executives. The executives get the assurance of best practices being used in managing their finances through our competent Financial Planners & the Corporate gets the maximum attention by its Top executives.


Middle Management and Executives
We provide On-site and/or Off-site 'Investment Helpdesk' for the Middle Management and Executives of the corporate as per their needs. The services offered through the Investment helpdesk include Tax Planning, PAN Facilitation, Tax Returns preparation & filing and access to various Tax Saving and Investment Instruments. The service offering of our Investment help desk can be customised to suit each corporate requirement.

The Investment Helpdesk can be even extended to Financial Planning Process Service on one-on-one basis.


Workshops and Seminars
Many company employees, and particularly company executives, face a capital accumulation crisis. Company jobs often are demanding and leave little time for recreation and family and still less time for personal financial pursuits. While seemingly generous, company salaries often are taxed higher than comparable incomes of self-employed individuals and business owners. This is because self-employed professionals and business owners usually have more deductions they can reasonably take before paying income tax. Furthermore, the Provident Fund is not likely to be a significant capital accumulation vehicle for highly paid employees. As a result, higher-paid employees tend to rely too heavily for capital accumulation on various plans to acquire their own company's stock if such option is available. This violates a cardinal rule of investing -- achieve adequate diversification. To complicate matters further, an unsuccessful accumulator of capital will be a victim of inflationary trends; that is, it will cost more and more to support a given lifestyle. We conduct seminars and workshops to corporate employees on topics like financial planning, tax planning, savings and investment, stock purchase plans, stock options and other financial planning products and services. This can be customised to meet particular requirements of each corporate entity.