Let us help you plan :
I want to

MONDIAL MMX › Financial Planning
›
› Contingency Planning
Financial Planning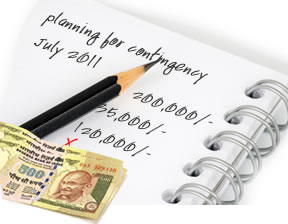 Contingency Planning
Planning for Contingencies is an integral part of any Financial Plan. Contingencies can result in reduction or stoppage of one's income. But regular living expenses need to be taken care of anyway. So, a well thought out and planned Contingency Fund for such situations can be a great help. Contingencies can arise due to many reasons like Job loss, health problems, temporary Disability, etc. A Corpus equivalent of 3-6 months of Living expenses plus committed outgo kept in liquid form is highly recommended.
MONDIAL MMX helps you in indentifying the Contingencies and the most suitable option to take care of it. These options are managed regularly and reviewed periodically through our review process as part of "7 Pearl Methodology for Financial Planning"